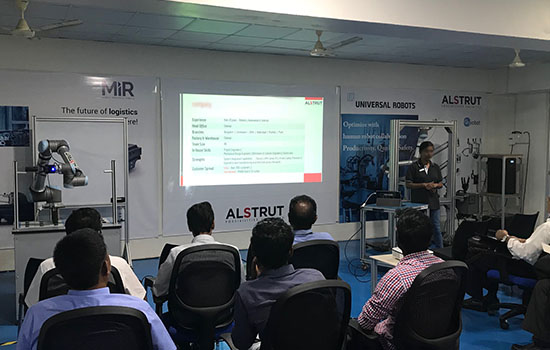 Training
Alstrut is the leading company in India, having an in-depth understanding of collaborative robots and their application in industrial workspaces.
An essential facet of Industry 4.0 is autonomous production methods powered by a new class of autonomous robots called 'collaborative robots' or 'cobots'. A cobot is a robot intended to physically interact with humans in a shared workspace, designed to operate autonomously or with limited guidance.

Alstrut provides both in-house or on-site training on the six-axis collaborative robots manufactured by Universal Robots (UR) as well as the autonomous mobile robots manufactured by Mobile Industrial Robots (MiR).

On-site training can be given for larger groups. The robot would be brought to the site for the training and practice.

In-house training is scheduled on a regular basis.

Multiple levels of training can be provided starting from

Basic Level
Intermediate Level
Advanced Level